8 Beautiful Libraries in the World Which is Every Book Lovers Dream
Get Daily Updates In Email
Libraries aren't just a room full of old and new book. It's a place where the knowledge, art and literature of entire world is preserved. It's a place of worship for any reader. You might have visited the libraries in your school and colleges, but have you seen the world's most beautiful libraries that are every book lovers dream come true?
Have a look:
1- The Saint Florian Monastery Library, Sankt Florian, Austria
In this library, one can find books and manuscripts dating back to the 16th century, along with 50 volumes and 600 sheets of cartography dating from the 16th-through-20th centuries. You will fall in love with the amazing architecture. It has scalloped balconies,  golden trimmings, and the breath taking ceiling.
2- The George Peabody Library, Johns Hopkins University, Baltimore, USA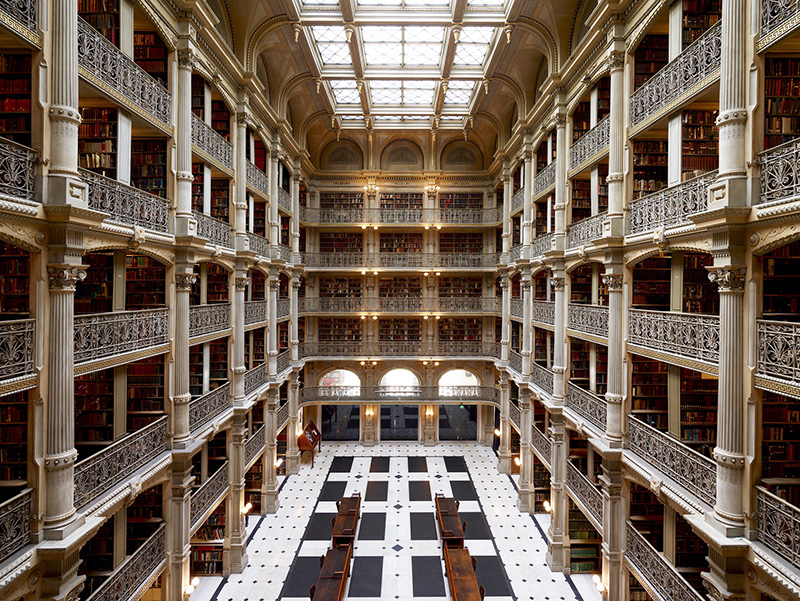 It was opened in 1878. It has an atrium reaching up to 18 metres high, surrounded by five levels of books framed by black balustrades and gold-trimmed columns. The gorgeous library has about 300,000 volumes of books majorly on architecture, American history, British art, biographies, Romance languages and literature, geography, exploration and travel etc.
3- Stuttgart City Library, Stuttgart, Germany
This library has lots and lots of books. Move your head up and look up to 5 storeys and you will see sacks of books piled up one after another. It has comfortable seating arrangement with a simple looking yet a paradise like structure.
4- The Mafra National Palace Library, Mafra, Portugal
It is no less than a Royal palace. It was built to commemorate the birth of the Portuguese King John V's first child, the princess Infanta Barbara. It has floors of rose, grey and white marble tiles, with white finishing and trimmings.
5- Tianjin Binhai Library, Beijing, China
China has opened the World's Coolest Library With 1.2 Million Books, And Its Interior are breath taking. It is the newest library in this list and was built in 2017. The way books are stacked in this library is amazing. You actually climb up the bookshelves like stairs to reach the upper levels. Next time you plan a visit to Beijing, don't miss out this place.
6- Royal Portuguese Reading Room, Rio de Janeiro, Brazil
It holds almost 4 lakh books.
7- The Long Room at the Old Library, Trinity College, Dublin, Ireland
It entirely has wooden interiors from floor, to ceiling, to bookshelves.
8- State Library Victoria, Melbourne, Australia
It has 2 million books.  Originally known as the Melbourne Public Library, it was opened in 1856. It was one of the first free public libraries in the world.
Published by Kanika Saini on 13 Mar 2018