5 Best Pictures From FIFA World Cup 2018 Prove That Football Is Loved Worldwide
Get Daily Updates In Email
Published by Admin on 18 Jul 2018
FIFA Worldcup is one the most watched sports in the world. The popularity of this game is so high that even in a cricket-loving country like India, the excitement of FIFA matches is always at its peaks. The FIFA Worldcup 2018 final between Croatia and France ended on Sunday where France became the world champion.
The final was held a few days back at the Luzhniki Stadium in Russia. The fans all over the world were on the edge of their seats as the two talented teams France and Croatia played the FIFA World Cup Final. France became the world champions and was awarded $38 Million along with the trophy. Croatia became the runners-up and was awarded $28 Million.
Have a look at five best pictures from the world cup.
Ronaldo Helping Cavani
https://twitter.com/indianbyheart54/status/1013249692791013382
Football player Cavani got injured and sat on the ground. As soon as Ronaldo saw this, he came to the aid of Cavani, assisting him off the field so he could receive treatment. With time running out for trailing Portugal, Ronaldo could have been justifiably angry, frustrated or simply not focused on an injured opponent.
This had won hearts of the social media and people just couldn't stop praising Ronaldo.
Croatian President 
Croatian President Kolinda Grabar-Kitarović has gained more fame with her gestures in the FIFA World Cup than anyone else.
She wore the team shirt and cheered as Croatia faced France in a thrilling World Cup final on Sunday. Later, soaked by the rain, Kolinda Grabar-Kitarović smiled in defeat and hugged every player from both teams as the winners were given their medals.
French President Cheers From Stands
French President Emmanuel Macron celebrates his team's goal during the Russia 2018 World Cup final football match between France and Croatia at the Luzhniki Stadium in Moscow on July 15, 2018.
Russia's President Vladimir Putin Is A Futurist 
Russia's President Vladimir Putin is well-known for his fitness and as a hard-hitting person. Mr Putin is surely one of the fittest and active president of one of the strongest countries in the world. He is also known for his cool gestures.
Russia president Vladimir Putin stood happily under an umbrella during the award ceremony after France defeated Croatia to lift the 2018 FIFA World Cup title at Luzhniki Stadium in Moscow on Sunday.
France Became The World Champions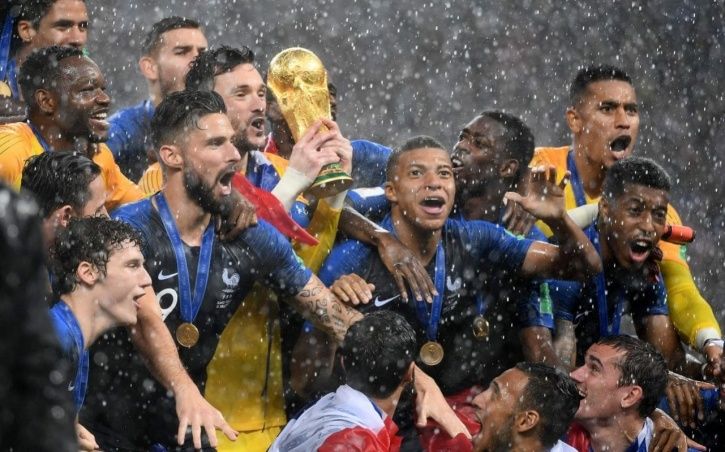 France became the world champions for the second time. Their happiness was clearly visible as on their face as they became world champions and were also awarded $38 Million.
FIFA World Cup 2018 was really amazing and these pictures are the proof.