Clipper ships sailed around Cape Horn on their voyages between Europe and Asia in the 19th and 20th centuries. Many sailing ships crash on the rocky islands due to the frequent high winds and storms in the region. This has resulted in taking thousands of lives in their attempt to get past Cape Horn. Those sailors who returned home safely often told horrific stories of their Cape Horn experiences.
Many cargo and cruise ships use the Panama Canal to cross between the Atlantic and Pacific Oceans since 1914.
(heavy weather in cape horn)
Now the main question is why is it the dangerous place on the earth?
Cape Horn is a very scary place to sail because sailors are in sight of land does not mean they are safe. This image, from a steel engraving included in The South American Republics (Part I),  depicts Cape Horn and the type of rough seas which can cause a sailing vessel to founder.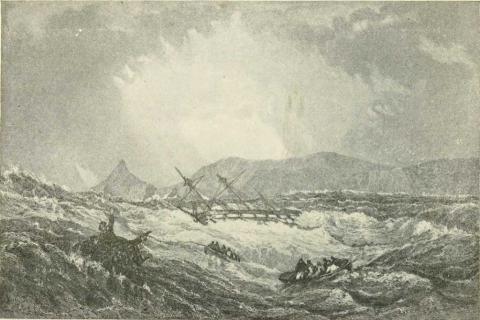 Some important facts about Cape Horn:
Dutch sailors discovered Cape Horn on 29th January 1616. It recently celebrated its 400th anniversary with a ceremony which was attended by Dutch and other international officials.
The waters around the Cape have claimed more than their fair share of sailors: between the 16th and 20th centuries.
It is estimated that at least 800 ships were shipwrecked, over 10,000 seamen lost their lives.
Traditionally, sailors who successfully rounded the horn would celebrate this feat by smoking cigars and drinking into the ocean. The latter was intended to thank Neptune, the Roman god of the sea, for their safe passage and to toast their fellow seamen who had been less fortunate.
So folks, what are your thoughts on this? Tell us in comments.