Aditya Narayan & Shweta Are Enjoying At Sula Vineyards, Singer Shares Pics From Their Trip
Get Daily Updates In Email
Published by Ricky Tandon on 13 Jan 2021
Bollywood singer and ace television host Aditya Narayan is enjoying his newly married life to the fullest. Now, Aditya and his loving wifey Shweta Aggarwal are on another break in Nashik, and they are making the most at a vineyard.
To share his excitement with his fans and followers, Aditya took to Instagram Stories and shared some images from their latest excursion. Shweta Aggarwal and Aditya Narayan are residing at the Sula Vineyards and relishing some tasty wine at their hotel.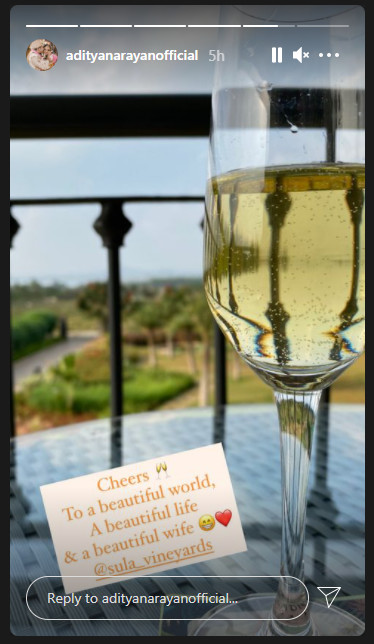 While posting the image of white wine in a glass, an excited Adi penned, "Cheers to a beautiful world, beautiful life and a beautiful wife." Another photo featured Shweta taking some glasses from the table in their peaceful hotel room.
The serene hotel room featured a curved ceiling, a four-poster bed and some more traditional stuff. While sharing the photo, Aditya wrote, "Hello better half," and added a kiss emoji.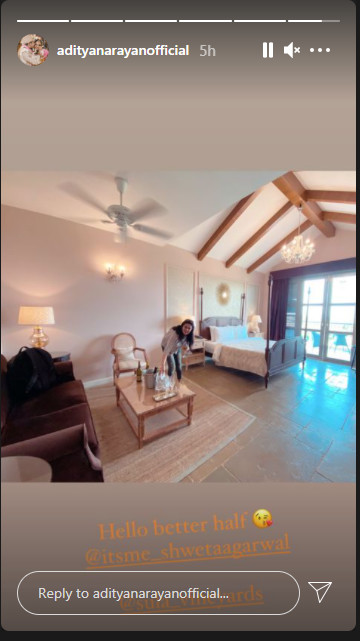 Aditya and Shweta enjoyed their honeymoon in Kashmir during the month of December. The singer posted an image of the two having a great time while enjoying a shikara ride on the Dal Lake in Srinagar. In the caption, he penned a short verse in Hindi about the exquisiteness he was enjoying in. He also made a special reference to both the natural environs and his companion.
While sharing a selfie from the roads of Srinagar, and wrote, "Honeymoon begins! Visiting heaven on earth #Kashmir for the first time #IncredibleIndia."
Aditya and Shweta's marriage was a hush-hush affair due to the pandemic, but, they had a extravagant reception bash with a lot of dancing and singing.
In an interview, Aditya shared all about his relationship with Shweta, "We have dated for a decade but still haven't lived with each other, barring a sleepover once or twice or a few trips, so it feels great to have each other around. We are different in so many ways yet have many things in common. I love the fact that we can be in the same home together, do different things and yet find time to do things together. The new thing about being married is now, every time I am out of the house for work, I am always in a rush to reach home."