Akshay Kumar Asks For Help As Daughter Nitara Wants To Pet A Unicorn With Wings
Get Daily Updates In Email
Published by Admin on 17 Jun 2018
The relationship between a father and a daughter is one of the most beautiful, pure and selfless relationships to ever exist. It is said that for once, a son can abandon his parents but not a daughter. A daughter can fight with the entire world for his father and a father will always protect his daughter no matter what happens.
A father cannot sleep in peace if the daughter is away from home even with close friends. A father's heart skips a beat even if the daughter gets a scratch. Tears don't stop from a father's eyes when she leaves home after marriage. For every girl, her father is the first and only superhero in existence.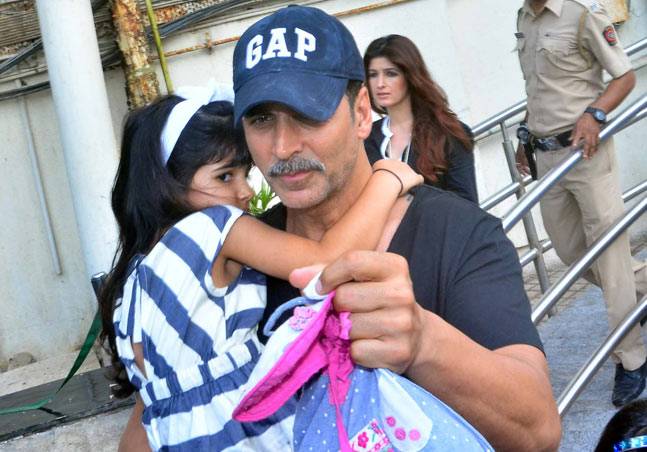 Akshay Kumar is one of the most loved and followed superstars in the country. Akshay Kumar is known for his rough and playful personality. He has made an image of Khiladi by working in movies like Gabbar, Holiday, Boss, etc. But apart from being an actor, he is a father too.
Be it a normal person or a busy superstar like Akshay Kumar, every father is weak in front of daughter's demands. The bond of a father and daughter is such that the father's heart always melts on whatever the daughter does or says. A father tries to fulfil all the wishes and demands of the daughter even if they seem impossible. Akshay Kumar, being a father, is trying to do the same.
Akshay Kumar too to Instagram and said that his daughter is asking for a unicorn with wings as father's day gift and he is confused how to fulfil that wish so he is asking for help from fans. Have a look at the adorable picture.
He captioned it, "‪Help!!‬ ‪It's #FathersDay and the little one asks "Dad, can I have a pet?" ‬‪My fatherly love taking over,"Of course Beta what would you like?" ‪She,"Dad, can you get me a Unicorn with wings?" Any suggestions?‬
‪#DaddysLilGirl"
That is surely cute. Akshay Kumar will be next seen in Gold with Mouni Roy. Akshay will also be seen with Rajnikanth in 2.0.