Asian Games: India's 4x400m Women's Relay Team Lead By Hima Das Clinched Its 5th Consecutive Gold Medal
Get Daily Updates In Email
Published by Admin on 31 Aug 2018
In India, a game of Cricket was considered to be most loved sport to an extent that people didn't even know the name of athletes in other sports. But with constant wins of sportsperson like Hima Das, PV Sindhu and Neeraj Chopra, sports like Racing, Badminton and Jwelin Throw at the Olympics has made people aware about other sports very well.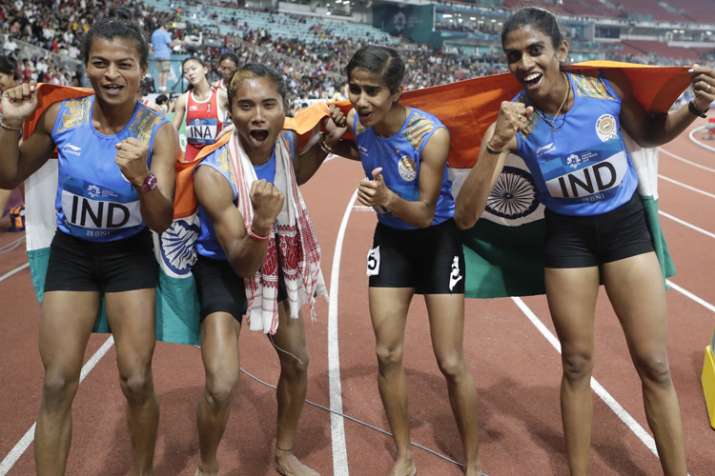 Indian athletes are making India proud as they continue to win medals at the Asian Games 2018. Hima Das has become a very popular athlete in our country since last few years and for the right reason.
On the 12th day, the women's relay team comprising Hima Das, MR Poovamma, Saritaben Gayakwad and Vismaya Koroth added the 13th gold to the tally with an excellent display of teamwork.
India's 4x400m women's relay team today clinched its fifth consecutive gold medal in the Asian Games. The Indian women's quartet of Hima Das, M R Poovamma, Saritaben Gayakwad and Vismaya Velluva Koroth ran 3 minutes and 28.72 seconds to claim the gold. India has been winning the gold in this event since 2002 Asian Games.
Following India, Bahrain (3:30.61) and Vietnam (3:33.23) took the silver and bronze respectively.
India's 4x400m men's relay team won a silver in the final event of athletics in the Asian Games here today.
The Indian quartet of Kunhu Muhammed, Dharunn Ayyasamy, Mohd. Anas and Arokia Rajiv clocked 3:01.85 to finish behind Qatar who won gold in an Asian record time of 3:00.56. India had finished fourth in this event in the 2014 Asian Games.
Following India's win, Japan took the bronze in 3:01.94.
India's medal tally at Asian Games 2018 is as follows: 13 Gold medals, 21 Silver medals, and 25 Bronze medals which makes a total of 59 medals so far.
There is a lot of sporting action coming up in the remaining days of the Asian Games.
Stay tuned to Laughing Colours for the latest sports news and updates.