Deepika Padukone makes statement in her gold and shimmery saree at Times award event
Get Daily Updates In Email
Published by Jaansi Kaul on 29 Mar 2022
Actor Deepika Padukone shared the photos as he prepared to receive the TIME 100 Impact Awards honor. As for the Instagram Stories, Deepika also talked about being nervous ahead of the event. The actor, after receiving the award, expressed her gratitude. In one of her Instagram Stories, Deepika was seen doing her makeup while sitting in a bathrobe. After getting ready, she also posed for a photo in her outfit for the event.
For the occasion, Deepika opted for a shimmering silver saree, with a matching sleeveless blouse, and tied her hair up in a bun. She also added a silver necklace and earrings to complete her look. The actor also shared a clip as he sat in the car before leaving for the event. When someone asked her how she was feeling, she replied with a smile, "I'm nervous. Laughing, Deepika continued, "I don't know why.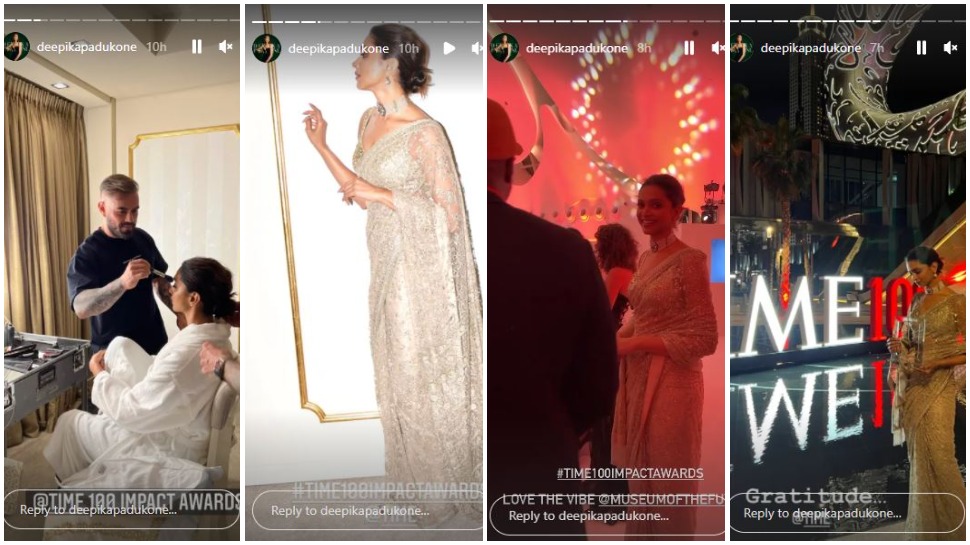 I wrote down a few things (she showed me a piece of paper). I hope it's meaningful. Deepika said, "But yeah, I'm nervous. You can see it on my face, can't you? But I'll try to have fun. I want to have fun." He added #time100impactawards and tagged Time in his Instagram Stories. Later, when asked how it was different for her since it was her second appearance at the Time Awards, she replied, "A lot of work." She continued: "A few years, a lot more work. And maybe a little more confidence.

After receiving the award, Deepika posed with him in front of a neon sign with "Time 100" written on it and "Gratitude" written on it. Sharing a video, posted by Time, she said: "So it's over for tonight. Great night. Great food conversation. Amazing people. See you soon.

Deepika also posed with her husband, l 'actor Ranveer Singh at the event'. She opted for a brown sherwani, dark shoes, and glasses. On Monday, Deepika shared Instagram photos of the honor she received from the Time Prize. She wrote, "Pretty decent start to a Monday morning I would say…#GRATITUDE @time.