Twin agreement signed between Delhi and Moscow for building up good relations
Get Daily Updates In Email
Published by Shifa Naz on 07 Oct 2018
The Government of Delhi has recently signed an agreement between the twin city with the Moscow administration for having mutual cooperation in the education, sports, tourism, transport and healthcare segment. This legitimate agreement was signed up by deputy CM Manish Sisodiya and Moscow Government Minister Sergey Cheremin at a ceremony held in Delhi.
As per the statement of Sisodiya, "The two Government would maintain regular contact and this agreement would develop good relational terms between the countries. with undertaking exchanges of delegations and ideas in areas of mutual consents and interests of both the cities."
The Moscow man Cheremin also stated, "Delhi and Moscow have good terms with each other and our strategic partner for many decades. We have worked hard to develop this strong relationship," Cheremin said. He also said that both the cities will cooperate actively in the management of transport, tourism, healthcare sports, and other fields.
The agreement was signed on Friday as Aam Aadmi Party (AAP) ministers Satyendra Jain, Kailash Gahlot, Rajender Pal Gautam ware all present during the signing of the agreement. Senior officers, including Chief Secretary Anshu Prakash, also attended the event on Friday.
Recently, India has really made good terms with other countries for managing good relations and for developing our nation with good pace. These kinds of agreement really play a vital role in building up the foundation of the country.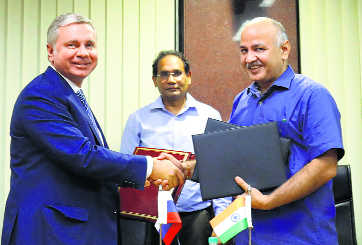 For more such latest news around the world stay glued with only laughing Colours. Do share your valuable comments.