Hyderabad Man Crafts Tiny Versions Of Kite & Face Mask Using Gold & Silver To Mark Makar Sankranti
Get Daily Updates In Email
Before the pious festival of Makar Sankranti, an artist from the city of Hyderabad has made use of gold and silver with the intention to craft tiny versions of a kite and face mask in order to mark the special occasion.
Mr. Anand Reddy, the craftsman told the media people that he creates tiny silver or gold kite and Manjha to offer to Lord Venkateswara in the Tirupati temple after the festival.
"Every year, I create miniature silver or gold kite and Manjha to offer to Lord Venkateswara in Tirupati after the festival. Kite and Manjha weigh 2.58 grams," he added up.
Kite flying plays a vital role during Makar Sankranti. People love to fly kites in varying colors in order to rejoice the special harvest festival.
The gold kite created by the said artist is a true representation of the real kite comprising the string as well as the holder for the thread and all these things are made up of gold. The said mask, in the meantime, is a small copy of the face cover, which has turned out to be a necessity during the pandemic. The face masks are used to stop the spread of the said virus.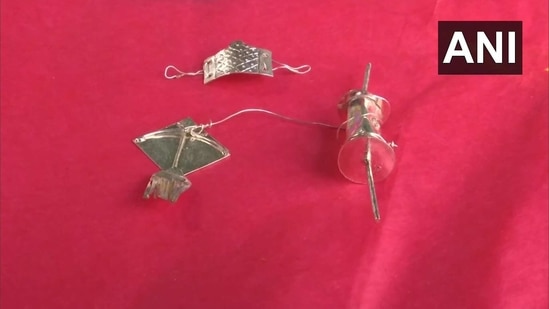 Reddy further added, "This year, due to the ongoing pandemic, I have also created a miniature face mask out of silver to create an awareness among people."
The media firm has also shared the special art of the artist on social media. The images of the artistic work by Anand got shared on Twitter.
Mr. Anand also urged people to follow the pandemic guidelines in a proper manner and help the nation in putting an end to the pandemic. Everyone must make use of face masks and maintain proper social distance, he added.
Published by Ricky Tandon on 14 Jan 2021