The reunion of a dog and her Ex master is melting the hearts of netizens
Get Daily Updates In Email
Published by Stuvi on 11 Jan 2021
This is a heartwarming moment captured on camera which shows a retired police dog tearing up after a surprise reunion with her former handler. The report is about Wangwang, an eight-year-old German shepherd, worked as a sniffer dog at security checkpoints in Xichuan county in Henan province, central China, the Daily Star reported.
According to the sources, the eight-year-old German Shepherd was adopted after she retired in June 2019. This means that Wangwang and her handler were separated after years of working together. And last month, the police handler decided to give a surprise visit to his friend. In the clip, the police officer can be seen outside Wangwang's home, calling for her.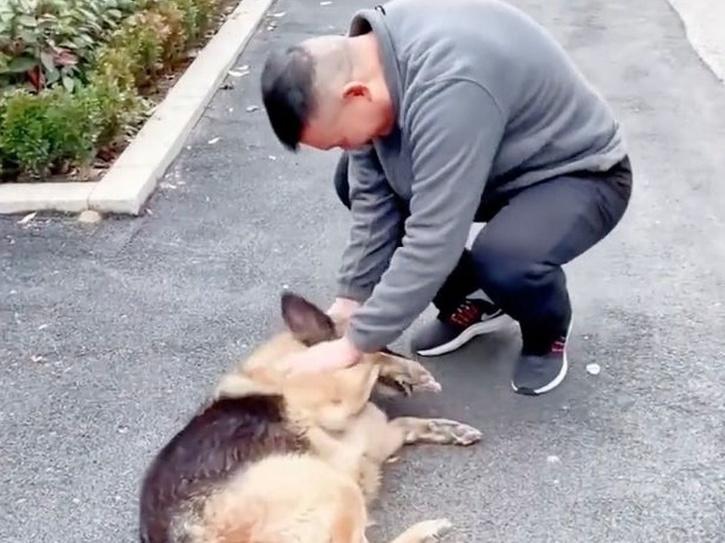 After she realises who's waiting for her, a very excitable Wangwang rushes out of the front door to greet her old friend, running up to him before immediately lying on the floor for cuddles.
While rubbing up against the police officer's legs Wangwang appears to let out a little cry. 
The clip was shared on Xichuan Police's Douyin account – the Chinese version of Tik Tok – and the viewers of the video had their hearts melted at the adorable dog's emotional reunion.
When the patrol unit heads back to their police vehicle, the loyal refuses to let them go and sits right by the handler. Wangwang rubs on his legs and appears to tear up while soaking in the moment. The post read: "Wangwang's hair is turning white but she is well fed, she is getting fat, It is always hard to bid farewell to your buddy".
Viewers also melted had their hearts at the adorable pooch's emotional reunion. One wrote: "The dog is welling up. Dogs are really loyal companions, please treat her well!, You can tell how much Wangwang misses her handler,". A second commented. "You can understand when the dog greets you belly up.
Such a touching moment tells us everything about the loyalty and goodness of the dogs.