Sanjeeda Shaikh & Aamir Ali Split: Read Full Story About Their Separation
Get Daily Updates In Email
The New Year 2020 has brought lots of smiles and prosperity for the majority of people but for some, it didn't bring in the desired contentment. As we all know that the small screen's loving and popular pair, Aamir Ali and Sanjeeda Shaikh's marriage is going through problems.
Sanjeeda has left her Lokhandwala house and started living at her mom's dwelling, whereas Aamir carries on staying alone in the same house. In actual fact, another shocker came in the form when it got clarified that the pair has a 4-month-old baby by way of surrogacy. The baby is living with Sanjeeda at her parent's house.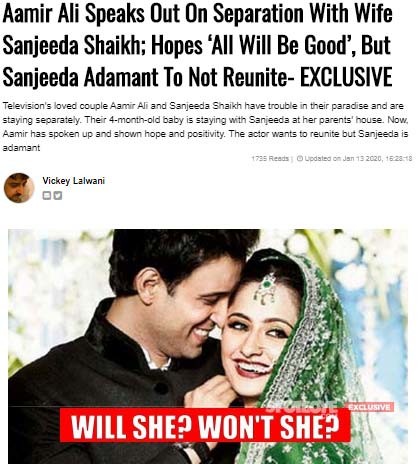 Aamir is surely trying to showcase his courageous front as even when media people met him, he answered through a text message that 'All will be good'. It hinted that he wants to solve all the problems between them, but Sanjeeda is not in a mood to reunite.
Now, we came to know the real tale behind their separation. So there are a number of reasons that together resulted in this. Initially, Sanjeeda isn't on good terms with her mom-in-law and the same way, her mom also hasn't been in support of Aamir, of late.
Secondly, ever since Sanjeeda came back from London during Oct 2019 her conduct towards Aamir witnessed a severe change. Before her London journey, things were healthier between them. They argued, but it stopped at some point. What resulted in the unexpected change in her attitude is something we still don't know.
And the third cause is that the pair is going through the financial problem. Both haven't been getting sufficient work, of late. This has resulted in both blaming each other for the morass.
Published by Ricky Tandon on 14 Jan 2020