Swiss groom and French-German bride tie the knot in desi style
Get Daily Updates In Email
India is a country that is known to have a beautiful and colourful culture which is filled with so many rituals and traditions. Our country is so diverse that the language and the way we dress up changes every few kilometers.
Indian culture and traditions have always intrigued the foreigners, and people from far away lands. Many a times we have seen foreigners coming to India as tourists, but then staying back in India as they fall in love with the different colours of the country. And now we witness two foreigners coming together to India and tying the knot through Indian rituals.
Marriage is a celebration of love, but wedding is the celebration of the beliefs of the Bride and Groom. A wedding is a ceremony, where two people come together and take a vow to stand by each other in all their highs and lows. But, with the ceremony is made into a celebration through different rituals and traditions.
And now the villagers near Vanur, Tamil Nadu got to see something unique. It was when a Swiss groom and a French – German bride, tied the knot in the desi style.
The groom is Yann Loosli who came to Auroville from Switzerland 6 years ago. Meanwhile, the bride was C Aurore Mabilat, she is the daughter of a French father and German mother and was born in Auroville. She is now a primary school teacher there.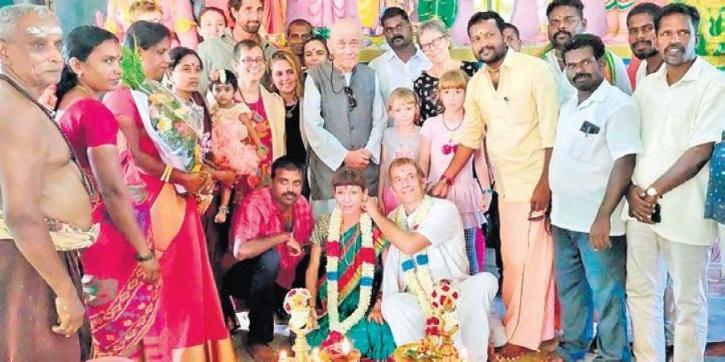 When the 48 year old, Yann met, 43 year old Aurore, they became friends and soon fell madly in love with each other. The couple got married in a beautiful ceremony at Neelagandeswarar temple in Kodur. While, the wedding guests were served South Indian meals and then the couple was welcomed to the house with arthi.
In an interview, Aurore explained that they are the devotees of Lord Shiva. She said that the traditions and food culture of this land have a special place in their hearts. The bride was born and raised in India even if her parents are foreigners, and the groom has pretty much become an Indian by heart.
Published by Vidhutma Singhania on 09 Dec 2020