Virat Kohli Makes His Way In The World Of Films And We Can't Keep Calm
Get Daily Updates In Email
Published by Shifa Naz on 21 Sep 2018
Yes, the latest post on Instagram made by the Indian captain Virat Kohli thrilled us and made us curious about what this extraordinary man is going to do next. We all know that Virat is a great team leader as well as a role model for all the cricket lovers but with this poster, he shows a different flair. Well, we can guess that he is diverting towards acting because of his loving wife Anushka who belongs to Bollywood.
Virat looks smashing in the poster and shows that its an action movie. We don't know whether this is a movie or short movie clip but this post speaks a lot about Virat's multi-talented skills. It encapsulates the caption on the poster as, "Introducing Virat Kohli. Trailer: The Movie. Wrogn Productions, Releasing 28.09.18."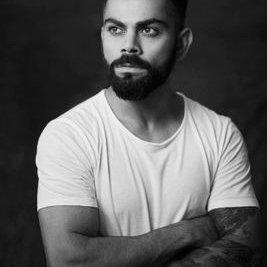 All of us are very surprised and curious about the "Trailor The Movie" and wishing to see our Indian Cricketer in the movies along with Anushka Sharma. We have seen them together in a commercial ad where the couple looked beautiful.
While the information is yet not clear about the poster that but still we are willingly wanting to go the theatre on the 28th of September. We are expecting this debut to be the biggest debut of this year where the cute Indian Captain will be making a century with his acting skills. Virat has always been in the limelight for his games and strategies but this time he will be seen in a totally different role. Hope this step of his life will take him to another level of perfectness.
Viewers are also waiting to see both of them together in the screenplay again. The above post of the cute couple speaks about their real-life love so how pleasant it would be for the viewers to see them together in reel life. Anushka and Virat got married on December 11 2017, and are living happily after their marriage and it seems like Virat is moving towards Bollywood because of his wife only, well this shows a cute respect of a husband towards his wife occupation.